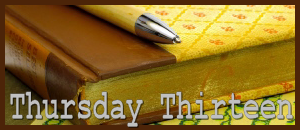 Thirteen Things I'm Feeling/Thinking These Days...

So this has been a pretty earth-shaking week for me (which explains the lack of posts)...so here's what I'm feeling/thinking about it all..

1. I'm feeling relieved.

2. I feel some peace.

3. I was brave.

4. But yet I still have moments of nervousness and also moments of anxiousness about what's next.

5. But even so, it's better than what I felt last week and there is a peace.

6. I feel loved...by God and certainly by my husband and various family and friends.

7. I have a soft place to fall.

8. I feel affirmed by my husband, inlaws and several friends who I've shared with...and by unexpected sources too... (And for the first time in my life, I think, I heard my mom say they would pray for me.)

9. I have value.

10. I don't want to wait for what's next...somehow I want to know what they next thing is and have that security, but I have to wait and see (all the while, I'm working on it too, you know.)

11. I'm reminded of my post a few weeks back (June 4, 2006) about fluffed up dead rabbits and taking risks...


It sounds like a fluffed-up dead rabbit to me. All over North America people remain in jobs they hate so they can buy stuff they don't need to impress people who don't care.
God created you for so much more than that. Could it be time for you to take a deep breath and really live again? Take some risks. God's plan for your life was never about being propped up in a cage.

12. I've been meditating on the words to
this song
this morning...the words bring tears and hope.

13. I'm going to be ok (I think) ...the feelings aren't as certain yet...there is a peace amid the anxiousness though.

Please keep me in your prayers:)




Get the Thursday Thirteen code here!

The purpose of the meme is to get to know everyone who participates a little bit better every Thursday. Visiting fellow Thirteeners is encouraged! If you participate, leave the link to your Thirteen in others comments. It's easy, and fun! Be sure to update your Thirteen with links that are left for you, as well! I will link to everyone who participates and leaves a link to their 13 things. Trackbacks, pings, comment links accepted!


View More Thursday Thirteen Participants