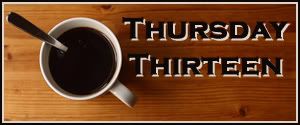 Thirteen Things that have happened or will happen this week...

1. My friend Charolette, from our small group, is getting married on Saturday!
2. My daughter's birth-mother is in town for a visit (just a bit-o-stress there, but it's going pretty good)
3. My friend Lynn is due to have her baby on the 24th...so it could happen this week!
4. Les and I tried to go to the Taste of Saskatchewan last night...crowds were enormous and parking was not to be found.
5. So we will likely go mid-afternoon on Friday.
6. I got a new suit that Les says follows Stacy and Clinton's rules!
7. I didn't want to spend the money on this even though it was quite reasonable and needed for any potential interviews, but my husband insisted!
8. I learned that an opportunity I was hoping would work out won't:( ...already filled.
9. I've had a little extra time alone with my hubby while Amanda's been visiting with #2.
10. We've gone to Starbucks!!
11. I'm really hoping and a bit anxious to receive some sort of offer/opportunity soon.
12. I'm more convinced than ever that I couldn't stay where I was.
13. I helped them create an ad for my position.
(Keep me in your prayers if you lean that way, k?! ...Thanks!)
Get the Thursday Thirteen code here!

The purpose of the meme is to get to know everyone who participates a little bit better every Thursday. Visiting fellow Thirteeners is encouraged! If you participate, leave the link to your Thirteen in others comments. It's easy, and fun! Be sure to update your Thirteen with links that are left for you, as well! I will link to everyone who participates and leaves a link to their 13 things. Trackbacks, pings, comment links accepted!


View More Thursday Thirteen Participants