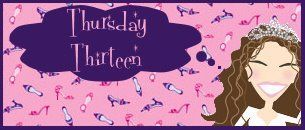 Thirteen Things I want to do more if I ever get the time...

1. Scrapbook
2. Play piano
3. Sew
4. Go out with my husband
5. Travel
6. Read
7. Finish my ministry education
8. Paint our front door
9. Reorganize the computer room
10. Redecorate the spare room downstairs
11. Be more consistent about practicing the tin whistle
12. Write out the rest of my favourite recipes that I've altered in my recipe organizer
13. Write a book
Credit for the beautiful banner above goes to
Denise
Leave your link in comments; I'll add you here!
*
TNChick
*
Kimmy
*
Wystful
*
Katherine
*
Lauren
*
Yellow Rose
*
Pink Chihuahua
*
Karin
*
Amanda
*
Musical Mom
*
Susan
*
Caryn
*
Courtney
*
Tanya
*
Melanie
*
Natalie
*
Leesa
*
Matt
*
Emily
*
Skittl
es *
Get the Thursday Thirteen code here!
The purpose of the meme is to get to know everyone who participates a little bit better every Thursday. Visiting fellow Thirteeners is encouraged! If you participate, leave the link to your Thirteen in others' comments. It's easy, and fun! Be sure to update your Thirteen with links that are left for you, as well! I will link to everyone who participates and leaves a link to their 13 things. Trackbacks, pings, comment links accepted!
View More Thursday Thirteen Participants