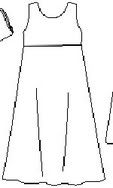 I'll bet this looks pretty simple to most of you. It is a sketch of this weekend's sewing project...my first-ever dress. Actually, it's for Amanda, and I'm so pleased with how it turned out! Amanda chose a Mary Engelbreit fabric with cherries all over it (and I should note that she chose Mary with no coaxing from me...) And now Amanda finally has an ankle length dress (as the stores don't make them that long for my tall-girl). She's in love with it, and that makes it so worth it! I actually enjoyed making it and have a sense of satisfaction that I actually figured out the lining and the ties in the back:)

The last couple of days have been filled with sewing (a dress plus hemming at least 5 pairs of pants for Amanda before she heads back to school), baking (scones, bread and cookies for back to school), cooking (homemade soup) and, of course, cleaning. The evenings have been filled with time with my beloved Les, church, and Amanda came back from the lake late yesterday afternoon. In the mornings I've been reading more in The Ragamuffin Gospel over a cup of tea. Life is good:)
Today, it's back to work for me...management meetings, sales meetings, budget worksheets, month-end.... and coffee breaks..speaking of which, this one is now over, so I better get back at it!