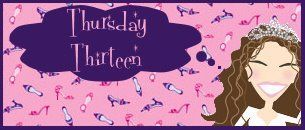 13 GOOD Things (that have happened or are going to happen) this week...

1. Date night, Thursday night's date night! Since we missed our date a couple of weeks ago due to baby-sitter problems, we've booked one for Thursday night as we all (including Amanda) have Friday off!
2. Having Friday off together:)
3. My husband made supper Tuesday night as I had to work late.
4. Wednesday night Les and I went for a nice bike-ride together:)
5. Yesterday I received flowers, for no reason, at work, from a DEAR friend!
6. The Pink Shadows (Amanda's airband group that performed last Thursday at the school assembly) WON the whole competition!! (The results were just announced today!) Pretty good for the youngest competitors in the event! I'm so proud of Amanda and her friends!! (They performed to Hilary and Hailie Duff's version of Our Lips Are Sealed... Amanda was Hilary, of course!)
7. And I was able to sneak away from work to see The Pink Shadows' BIG performance!
8. Relaxing experience last Sunday morning (which I already blogged about:)
9. The words in the card my husband gave me for Mother's Day:)
10. We were able to get our deck stairs fixed today.
11. Amanda's going to a b-day party/sleepover for a sweet friend this weekend (I really have a soft spot for this particular friend:) But then again I have a soft spot for most of her friends:)
12. Small group went really well this week and my rasberry chill cake was a hit (low fat and sugar and people still loved it?!!! :)
13. I'm pretty sure that Les and I will make it to Starbucks sometime on Friday...yeah!