There is something just SO RIGHT about this cup and saucer...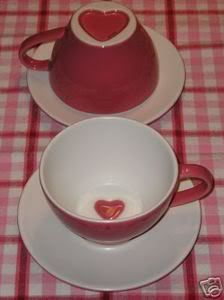 ...it's this year's valentine's cup from Starbucks and the heart in the bottom of the cup is actually also engraved out of the saucer so the two actually interlock when the cup is set down!
...and my amazing husband made the brilliant decision to get this for me for Valentine's Day! So sweet and so brilliant! (especially considering that I'm a girl with a thing for cups and saucers ...and Starbucks ...and even more so for HIM;)
We went out for an early dinner to Earl's last night. I had my favorites, the bento box and a glass of gewurztraminer. Then we went for a drive and even stopped by Starbucks before we headed home:) It was a fantastic date-night! I read our cards over again this morning before I headed off to work and my eyes were full of tears, again...
God blessed me with such a good man!
!