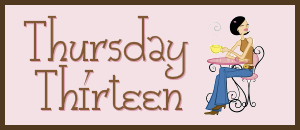 Thirteen indulgences that make me feel special:

1. My husband's words and affection...whether it be his holding my hand on the couch or putting his arm around me at a movie or at church, his touch and his words mean SO much to me! :)
2. A cup of tea served in a proper teacup :)
3. A trip to Starbucks :)
4. Being able to sleep late on a weekend morning (ahhh, this is but a rare pleasure these days) :)
5. Finding special little notes left for me by my daughter :)
6. A pedicure :)
7. Going out on a date with my hubby :)
8. Having some quiet time to read a good book :)
9. Receiving flowers (especially roses!) :)
10. A sweet comment from a friend/acquaintance :)
11. A foot rub...or massage of any kind :)
12. Chocolate :)
13. A break from cooking or housework (though I love cooking and caring for my family, a break every so often is nice!) :)
Credit for the cute banner goes to Kelly!

Leave your link in comments; I'll add you here!
* Eph2810 * Carmen * TNChick * Feathers * Wystful * Dorothy * Pink Chihuahua * Denise * Courtney * Ames * Karin * Ardice * Green * Kelly * Tanya * Flip Flop * Elle *

Get the Thursday Thirteen code here!
The purpose of the meme is to get to know everyone who participates a little bit better every Thursday. Visiting fellow Thirteeners is encouraged! If you participate, leave the link to your Thirteen in others' comments. It's easy, and fun! Be sure to update your Thirteen with links that are left for you, as well! I will link to everyone who participates and leaves a link to their 13 things. Trackbacks, pings, comment links accepted!
View More Thursday Thirteen Participants