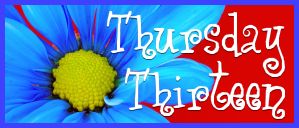 Thirteen Things that are happening this Easter:

1. For the first time since we've been married, Les doesn't work Easter Sunday!

2. On Good Friday our family will be going through the Stations of the Cross at Church together.

3. This will possibly be followed by a trip to Starbucks:)

4. Les is playing at Church on Easter Sunday.

5. Both Les' folks and my own along with my brother will be our guests for Easter dinner.

6. We will probably colour eggs Easter Saturday (any cool ideas people?)

7. The weather for this weekend looks like it will be amazing:)

8. Our tulips might actually bloom (which is amazing given that just a few days ago we still had some snow!)

9. We'll finish the Easter week devotional we've been doing.

10. Amanda will wear her new fancy purple dress for the first time.

11. During Amanda's Easter break she'll have her friends over for a Hilary Duff movie party.

12. I don't have to work Easter Monday...yah! :)

13. We'll celebrate what our Savior did for us...thank YOU, Amen.

Credit for the funky new spring banner goes to Kelly!

Leave your link in comments; I'll add you here!
* Undercover Angel * TNChick * Nicole * Kelly * Caryn * Christy (not a TT, but always a good read!) * Karin * Yellow Rose * Denise * Daisy * Tanya * Natalie *

Get the Thursday Thirteen code here!
The purpose of the meme is to get to know everyone who participates a little bit better every Thursday. Visiting fellow Thirteeners is encouraged! If you participate, leave the link to your Thirteen in others' comments. It's easy, and fun! Be sure to update your Thirteen with links that are left for you, as well! I will link to everyone who participates and leaves a link to their 13 things. Trackbacks, pings, comment links accepted!
View More Thursday Thirteen Participants