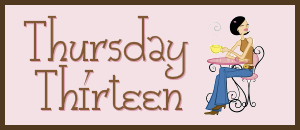 Thirteen Good Thoughts about Our Trip to Starbucks on Wednesday:

As I mentioned in my last post, Les and I have a few days off together this week. We're not going anywhere, just getting things done around the yard and spending some time together, but we have made allowances to take a few trips to Starbucks together this week, so here are some good things about Wednesday's trip...

1. As we worked in our yard in the morning and early afternoon, planting trees and painting the deck floor, the thought of going to Starbucks when we were finished was great motivation!
2. When we got there one of the Barista's, who was on her break outside, got up and walked toward us to tell us that the other day when we had popped by and found that that they were temporarily closed due to a pipe break, that they were still able to take business by the drive-thur and that when she saw us pull up, she had started to make our usual orders. When we had seen the sign about their problem though, we had carried on, not thinking the drive-thru would be open, but it was so sweet that they had actually started to make our order. I apologized for the inconvenience, and the Barista responded that it was ok, she loves my usual so she drank it!
3. When we went inside, several staff greeted us and asked us how we were:)
4. I ordered my caramel macchiato with no fat and s-f vanilla (mmmm:)
5. Les had a venti sumantra, some skim milk and an expresso brownie...which I got a bite of:)
6. I dipped a low-fat vanilla almond biscotti in my macchiato (mmmmmm:)
7. We got to sit in the big comfy green armchairs (I even curled my feet up:)
8. One of the Barista's came over and asked if we would do a coffee sampling with her.
9. We said sure and it turned out that she was sampling the new Brazilian blend that Les and I had been talking about on the drive over. We had just been saying that we wondered what it was like and that if we didn't notice it as one of the brews of the day soon we might ask them to make a french press of it so we could try it.
10. It had a wonderful nutty flavour and no bitterness. We'll definitely be buying some beans for at home.
11. The Barista made it in a french press, which is our favoured method of brewing regular coffee at home.
12. We enjoyed relaxing in our cozy chairs with our beverages and talked away!
13. Les says we're going back tomorrow! :))




Get the Thursday Thirteen code here!

The purpose of the meme is to get to know everyone who participates a little bit better every Thursday. Visiting fellow Thirteeners is encouraged! If you participate, leave the link to your Thirteen in others comments. It's easy, and fun! Be sure to update your Thirteen with links that are left for you, as well! I will link to everyone who participates and leaves a link to their 13 things. Trackbacks, pings, comment links accepted!


View More Thursday Thirteen Participants