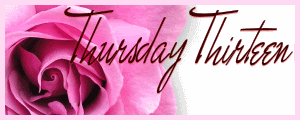 Thirteen Pretty Perennials in my garden:
(Busy busy week here, so it's going to be a quick list today, but I chose to do perennials because I had aweful luck with them the first year I tried, but this year I have been so pleasantly surprised at what's already blooming:)
1. Delphiniums
2. Chasta Daisies
3. Roses (ok, these aren't perennials, they're bushes, but they still return to bloom each year:)
4. Purple cone flower
5. Phlox
6. Salvia
7. Lilies (my friend Alana shared these with me from her garden last year and I think they will actually bloom this year:)
8. Irises (another plant shared with me by Alana...it didn't bloom last year, but I'm hoping it's established enough to bloom this year).
9. Painted Daisies.
10. Tulips (although they are done blooming now)
11. Obedient plant (this is what they look like as someone in the comments mentioned they hadn't seen one before)
12. Pink Nancy (got this at the Church perrenial sale last year and already I've been able to divide the plant and share it in other parts of our beds...I'm sure it has another name too.)
13. A purple flowering plant that I can't remember the name of right now, but when I get the chance to go out into the backyard tonight, I will update this with it's name)
**update* I went outside and there's no tag in the ground, so I still can't place the name of that plant, but I noticed that I have several other perrenials that I haven't already listed...dianthis, violas, aruga and chives.

Get the Thursday Thirteen code here!

The purpose of the meme is to get to know everyone who participates a little bit better every Thursday. Visiting fellow Thirteeners is encouraged! If you participate, leave the link to your Thirteen in others comments. It's easy, and fun! Be sure to update your Thirteen with links that are left for you, as well! I will link to everyone who participates and leaves a link to their 13 things. Trackbacks, pings, comment links accepted!


View More Thursday Thirteen Participants