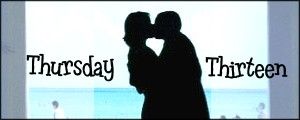 Thirteen ways I was spoiled for my bday last weekend:

1. For the first time since we've been married, my hubby and I both had my bday off:)
2. My inlaws had us for a bday supper the night before (FIL even made his special garlic shrimp) and kept our daughter overnight so we could go out on my bday:)
3. Les took me to dinner at the Granary:)
4. And it was lobsterfest...so I had lobster:) (...and some particularly good wine:)
5. And afterward we went to the movies and saw a romantic comedy:)
6. And we had not one, but TWO trips to Starbucks that day (one in the afternoon and then a nightcap after the movie:)
7. Speaking of Starbucks, at work on the day before my bday, my staff surprised me with a grande caramel macchiato (no fat and sugar free) at coffee break:)
8. I still can't believe they remembered exactly how I like it:)
9. They got me a piece of banana loaf with it (and I ate it...thus breaking my carb limit in a 2 hour window:( ...but it tasted good:)
10. I broke my eating plan a couple of other times on my bday weekend, like on the morning of my bday when my husband served me breakfast...a cinnamon bun fresh from the bakery...YUM! (Someone said that the calories and carbs don't count if it's your bday, right?!!) ...anyway I'm trying to be extra good now this week..
11. My darling daughter gave me the most beautiful card...the sentiment of which was that no matter what she's sure of two things: God's presence and my love (I'm so GLAD she is secure in that:) ...she also gave me the
Busy Mom's Guide to Prayer
which she had seen me look at once (very thoughtful of her to remember that:) ...I'm SO looking forward to using it:)
12. My in-laws gave me a "Classic Goddess Pedicure" from my favourite day-spa! I wonder what a "Classic Goddess Pedicure" involves?!! (I know about the pedicure part...but the name of this one sounds so indulgent?!!:)
13. My husband gave me an amazing card and thoughtful gifts as well and totally doted on me all weekend! Boy do I love that MAN! :)
Get the Thursday Thirteen code here!

The purpose of the meme is to get to know everyone who participates a little bit better every Thursday. Visiting fellow Thirteeners is encouraged! If you participate, leave the link to your Thirteen in others comments. It's easy, and fun! Be sure to update your Thirteen with links that are left for you, as well! I will link to everyone who participates and leaves a link to their 13 things. Trackbacks, pings, comment links accepted!


View More Thursday Thirteen Participants