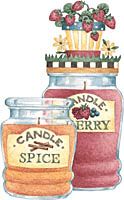 As I posted on Tuesday: "I guess I'm having a 'book-party' for Party-lite Candles. I went to a candle open house with my mother-in-law this weekend and somehow got roped into this. Actually, I was thankful to find a new consultant since my stock of votives and tealights was getting pretty low...plus I discovered some yummy new scents...belguim waffles, almond biscotti and pumpkin ginger:) If you're needing any votives/tealights and want me to bug you about it, let me know and I'll give you a call.
"
Last night, the Party-Lite consultant called me with a special offer that I can extend to anyone who orders anything...
Buy 2 Get 1 Free!
That means if you buy 2 dozen votives, you get 1 dozen free; if you buy 2 dozen tealights, you get 1 dozen free; if you buy 2 candle holders, you get one of a value no greater than the average cost of the 2 free.