Speaking of festive colours...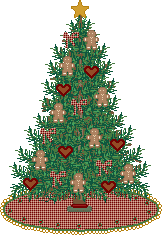 My last post got me to thinking about what I consider a festive colour and what I don't and why... Don't get me wrong, I have seen lovely white Christmas trees with pink ornaments, lovely, but they just don't say 'Christmas' to me. Christmas to me is rich greens, deep reds, country blues. Our neighbour across the street has their tree in front of their window as do we, and it's covered in white lights as is the fashion these days, but multi-coloured lights shine Christmas to me. Don't get me wrong, I love lights no matter the colour and am thrilled that more and more houses are lit up at night as I drive by these days...

I guess I have this folky, old fashioned idea of Christmas, and I don't really want to change it. I like green trees with coloured lights, angels or stars on top, homemade decorations, folky decorations, angels, gingerbread.... and of course, there has to be a navity underneath:)
(Note: credit for image above goes to...
http://www.heartwarmingholidays.com/
)